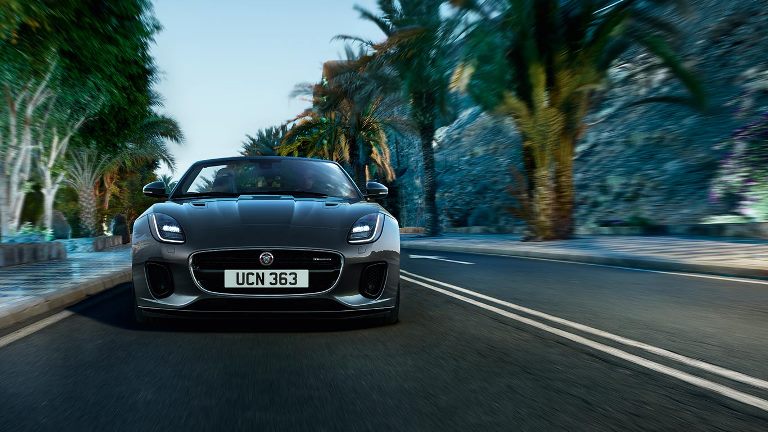 The 2018
Jaguar F-TYPE
isn't available yet to the New Albany and Dublin, OH drivers served by Byers Jaguar. However, with other 2018 Jaguar models trickling in, it won't be long now. A few automotive journalists have gotten their hands on the newest Jaguar car, and their feedback is interesting to say the least.
We can sum up the critical reception so far with a pattern that's emerging. As we've previously mentioned in this space, there's a new four-cylinder trim available that acts as an "entry level" version of the car. Even though it's not the usual six or eight-cylinder, it's no slouch. It's a turbocharged four-cylinder Jaguar Ingenium engine that puts out a quite respectable 296 horsepower. More importantly, it makes its 295 lb.-ft. of torque from a scant 1,500 RPM. Early reviewers have put the car through its paces and report a 5.7 second 1-100 km/h (1-62 mph) time. While we'll grant that this isn't as fast as the 3.3 second zero-to-sixty of the 2017 Jaguar F-TYPE R, the latter has the advantage of much higher horsepower, and AWD to boot.
The smaller engine also reduces weight, and that in turn changes the driving dynamics for the better. After all, the handling is a bit more agile without the added weight. Besides, with the exception of the dual exhaust — the four-cylinder needs only a single exhaust — you're still getting the same gorgeous lines that make this the best-looking car since the classic Jaguar E-TYPE.
That brings us back to the critics. The only gripe here seems to be with the more subdued exhaust note. Everything else — the spry handling, the added fuel economy, the great driving dynamics, and the lovely appearance — hasn't changed a whit.
Furthermore, as Motor Report notes, sports car sales usually start off strong and then taper off. Their buyers tend to keep these cars a bit longer than average, and that pattern has so far borne out with the Jaguar F-TYPE. The four-cylinder trim is a smart move on a few levels. Not only does it give better fuel economy without sacrificing performance, it also creates an entry-level for the model, which should be a shot in the arm to the company's numbers.
The 2018 Jaguar F-TYPE isn't in stock yet at Byers Jaguar, but with the
2018 Jaguar F-PACE
and 2018 Jaguar XE already on site, it won't be much longer. For more information, call 877-820-6925 or visit us at 401 North Hamilton Road in Columbus, OH today!